Mr. Bulletfeeder on a Hornady LNL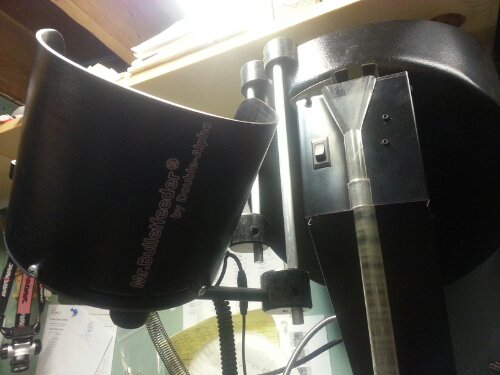 The Mr. Bulletfeeder is setup for a Dillon reloading press such as the 650 or the 1050. However, I have a Hornady press, so this post is focused on what one needs to make the Mr Bulletfeeder work on a Hornady LNL-AP. This will hopefully get the next reloader going faster with the Mr BF & LNL-AP combo.
What you need:
First, order your Mr Bulletfeeder directly from Rick (the inventor) @ RAK Systems
Tell Rick that you need a

Hornady powder funnel

with your order.
Then visit your local hardware store and buy a 3′ pre-cut 3/8″ solid aluminium rod to extend the hanging rods ($6)
Also buy a light long spring from the Hardware store. I found a Utility Ext Spring (1/4″ x 2″ x .018″) that works well ($3)
…and you need a zip tie that you hopefully already have at home.
First, unpack your new Mr. Bulletfeeder. Before you assemble the hanging system completely, you will need to replace the vertical rods with two rods that you need to cut to length from the 3/8″ rod purchased above. Replace the shorter rod with a 9.5″ rod. Then replace the longer piece with a 12″ rod. See the picture below for reference. This will allow the Mr. Bulletfeeder to hang low enough to still utilize the spring shaped bullet tube without interfering with the bullet seating die's action.
Picture: Longer rods to allow Mr. Bullet to hang low enough to not stretch the bullet tube and reach the bullet feeder die.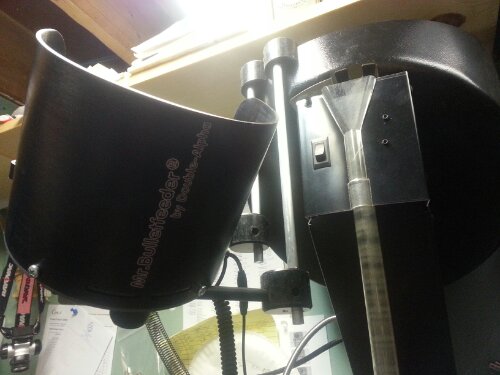 Next we're on to the bullet seating die. DO NOT TIGHTEN THE DIE BODY WITH ANY TOOLS! The die body is very thin and finger tight is good enough. The die works by being pushed up to release a bullet and then dropping down to hold on to the next bullet. To ensure that the die body drops after the bullet is placed on the case, we are going to add the long spring that will compress the die even if there are some light horizontal forces on the die body. To do this we are going to use the existing red zip tie that holds the switch in place and then we'll add another zip tie to the threaded part of the die body (white zip tie). Simply place each end of the spring on one zip tie and you are done.
Picture 2: Picture of light spring attached.


Picture 3: Die body installed next to the powder drop. There is very little space, but it works.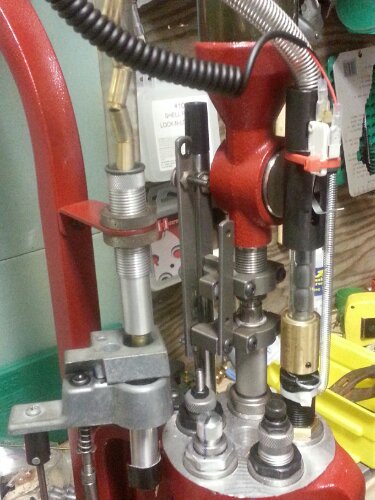 That's it! Enjoy reloading with Mr. Bullet on your Hornady press!