Sarco 1911 Parts Kit with Barrel review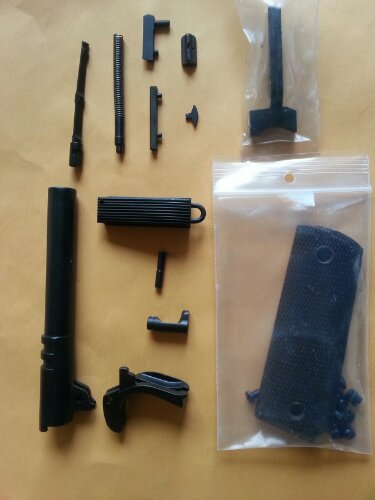 I was looking into building a 2011 on the cheap and in my hunt for parts I found this Sarco kit that often gets negative reviews. In fact for all the bad reviews I found, I only found one positive one on Youtube. Surprisingly, these kits are hardly ever in stock and so when I checked their website and it said "available" I whipped out my credit card to try this kit out myself.
Here is a picture of some of the parts: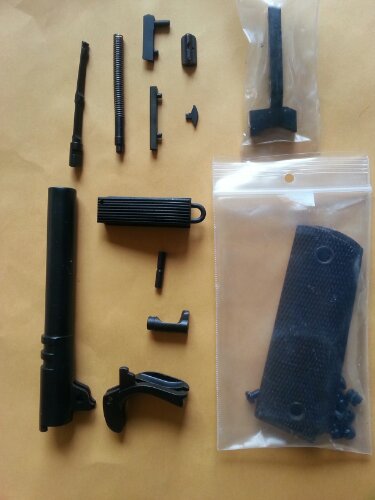 The negative:
All they parts have seams, either from stamping them out or from casting.
The finish is good but does not look very durable (some type of paint)
The positive:
THE KIT IS ONLY $135!
You get everything you need except a frame and slide
All the parts can be cleaned up and blued
Spoiler alert!  If you know how to fit a barrel and give it the right lock up it has a PHENOMENAL accuracy! I KID YOU NOT!
To test the kit without buying a new frame and slide, I used my Colt Gold Cup frame, and a 1911 A1 slide.  The reason I could not use the Gold Cup slide was because the hood of the Sarco barrel was wider, but luckily I was able to get the A1 slide from Craig and it fit the Gold Cup lower.
Enough of all the boring stuff.  I have to say, I was impressed by this $135 kit.  I was pleasantly surprised by the accuracy of the barrel and slide combo that I used.  The barrel needed minor fitting and had good lockup. I didn't have my pistol rest with me and I shot a target at 7 yrds, 7 times.  Besides pulling 2 shots the rest of them were all touching.  I didn't have the extractor tuned properly and did have a couple jams. YES, I prefer titanium internals and a low mass hammer, but the Sarco kit is usable and can be tuned, it's just a function of time and know-how.  Anyway, enough of the chitchat here is my video review: